Guidance:
When you trade on Binance exchange , our system will give you a discount of deductible fees automatically on the condition of having enough BNB in your account. The cost BNB amount depends the market price.
| | | | | | |
| --- | --- | --- | --- | --- | --- |
| TIME | The 1st year | The 2nd year | The 3th year | The 4th year | The 5th year |
| Discount rate | 50% | 25% | 12.5% | 6.75% | No discount |
FAQ - Frequently Asked Questions
1. Converting logic of BNB market value.
If the trade receivable is NEO, we will calculate it by the exchange ratio of NEO to BNB at the market price, which is based on the market price of NEO / BTC and BNB / BTC.
Exchange ratio of NEO/BNB = NEO/BTC[market price] /(BNB/BTC [market price]). Binance update cycle for the market price is 1 second.
2. Can I turn on/off the the function of using BNB for deductible fees?
Yes,you can turn on or turn off the funtion in "User Center". There will be an alert in the trading page as well.

User Center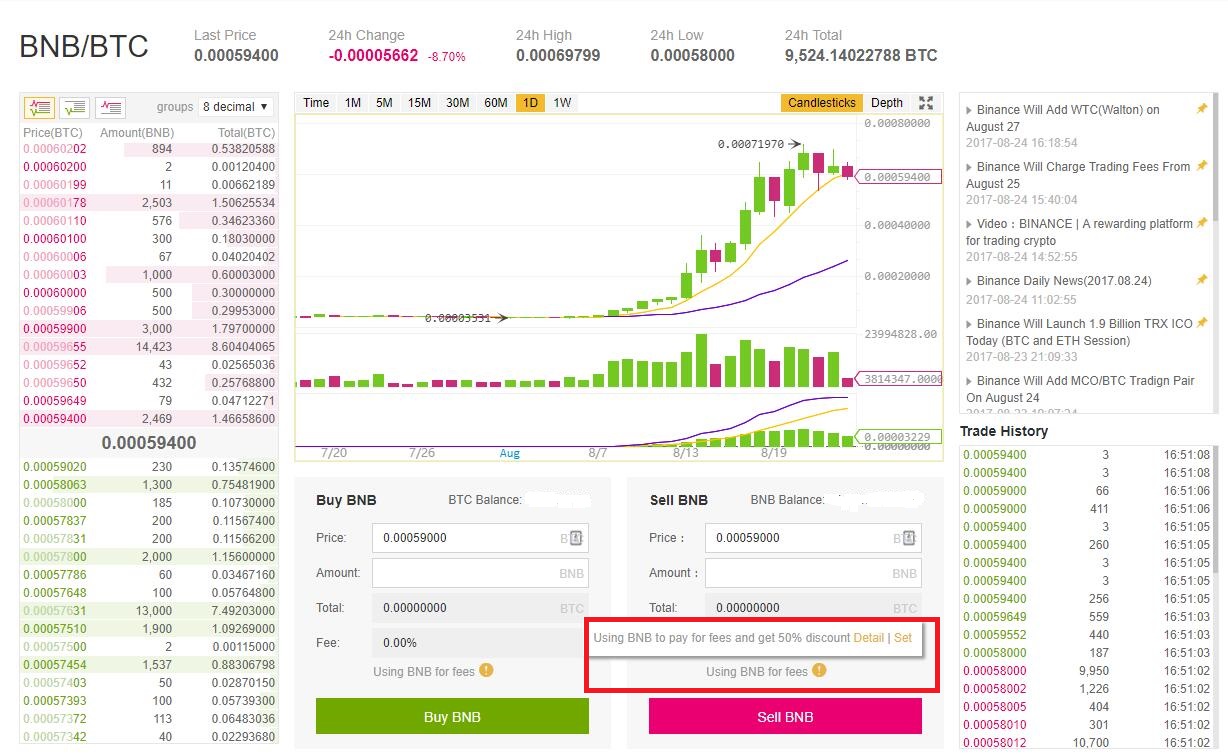 trading page
3. How to calculate if you trade by using BNB for deductible fees?
When you turn on " use BNB for fees", the fees will have a discount. If you turn it off, Binance will charge 100% BNB deductible fees.
4. If enabled using BNB for deductible fee, but have insufficient BNB in the account, what's the consequence?
Using BNB for deductible fee option doesn't work at all.