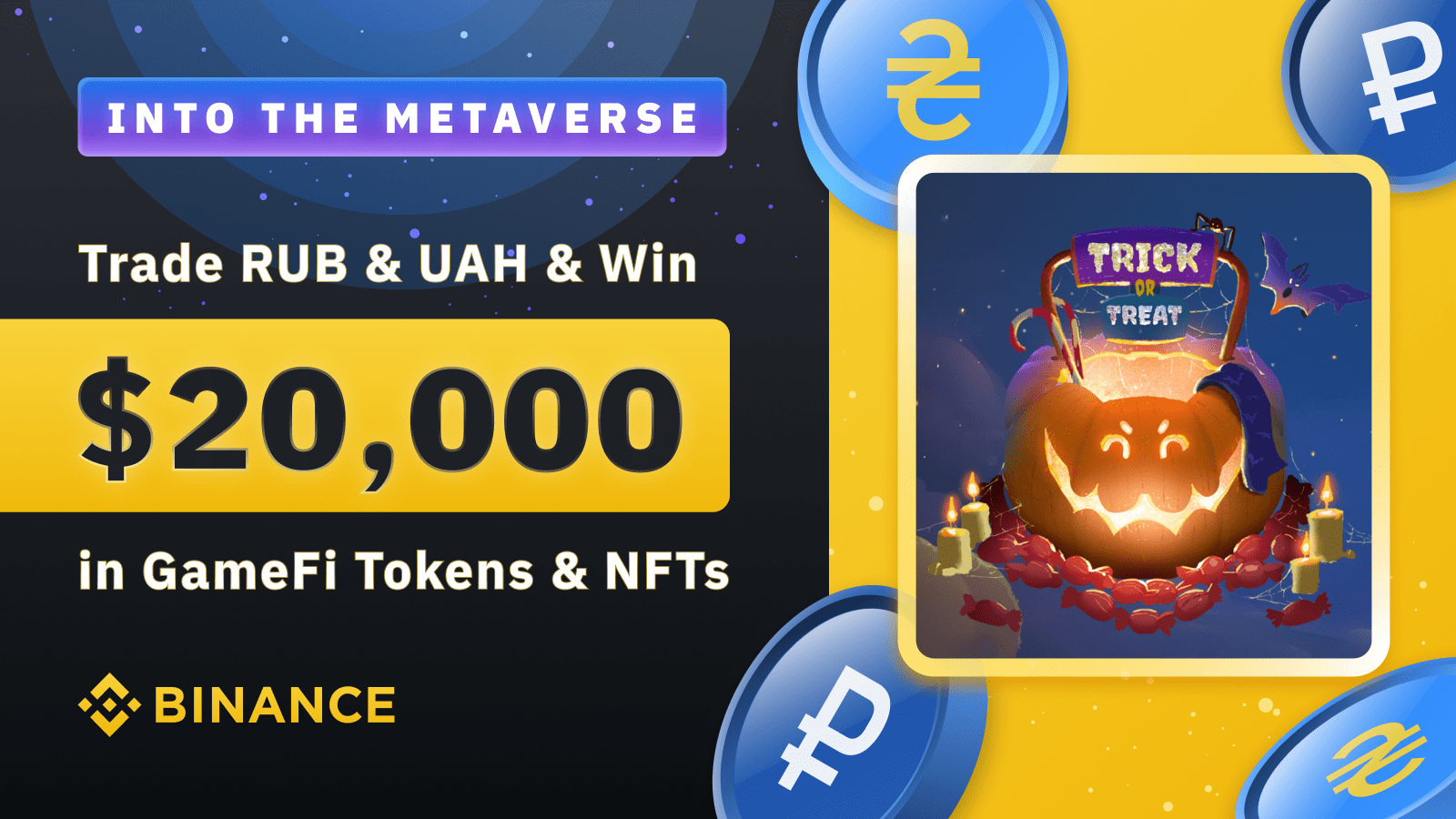 Fellow Binancians,
Binance has launched a RUB and UAH trading competition where eligible users stand a chance to win exclusive NFTs and share a prize pool of $20,000 worth of DAR and ALICE tokens.
Activity period: 2021-11-08 09:00 AM to 2021-11-14 11:59 PM (UTC)
Promotion A: Trade RUB & UAH Pairs to Win Exclusive NFT Mystery Boxes
Promotion B: Trade More, Earn More - Win Up to $20,000 in DAR and ALICE Tokens
A tier and the corresponding prize pool will be unlocked when the number of eligible traders hit a certain threshold. When the total number of eligible traders reach 20,000, the total value of the prize pool will increase to $20,000.
User who complete the 2 tasks below successfully will be eligible to share the trading prize pool:
The prize distribution will be as per the table below:
| | | | |
| --- | --- | --- | --- |
| Tier | Minimum Total Number of Eligible Traders | Prize Pool in DAR and ALICE Tokens | No. of Top Traders to Share the Prize Pool* |
| 1 | 1,000 | $1,000 | 1 |
| 2 | 3,500 | $3,500 | 3 |
| 3 | 5,000 | $5,000 | 5 |
| 4 | 12,000 | $10,000 | 10 |
| 5 | 20,000 | $20,000 | 25 |
* Top traders are ranked by their total trading volume (buy and sell volume) across any available RUB and UAH trading pairs during the promotion period. If the prize pool hits $20,000, the top 25 traders are eligible to share the prize.
Reward calculation:
Reward for an eligible trader = (Each user's total effective trading volume / All top traders' total effective trading volume) * Prize pool amount reached.
Get started now:
Terms and conditions
Risk Warning: Trading cryptocurrencies involves significant risk and can result in the loss of your capital. You should not invest more than you can afford to lose and you should ensure that you fully understand the risks involved. Before trading, please take into consideration your level of experience, purchase objectives, and seek independent financial advice if necessary. It is your responsibility to ascertain whether you are permitted to use the services of Binance based on the legal requirements in your country of residence.
Binance reserves the right in its sole discretion to amend or change or cancel this announcement at any time and for any reasons without prior notice.