We are excited to introduce the latest edition of the Binance Learn & Earn series with PORTO, the official Binance Fan Token of FC Porto, famed Portuguese football club.
This time we're giving away $5,000 worth of PORTO tokens! Be among the top 500 winners and collect $10 in PORTO!
Activity Period: 2021-11-17 00:00 AM (UTC) to 2021-11-24 11:59 PM (UTC)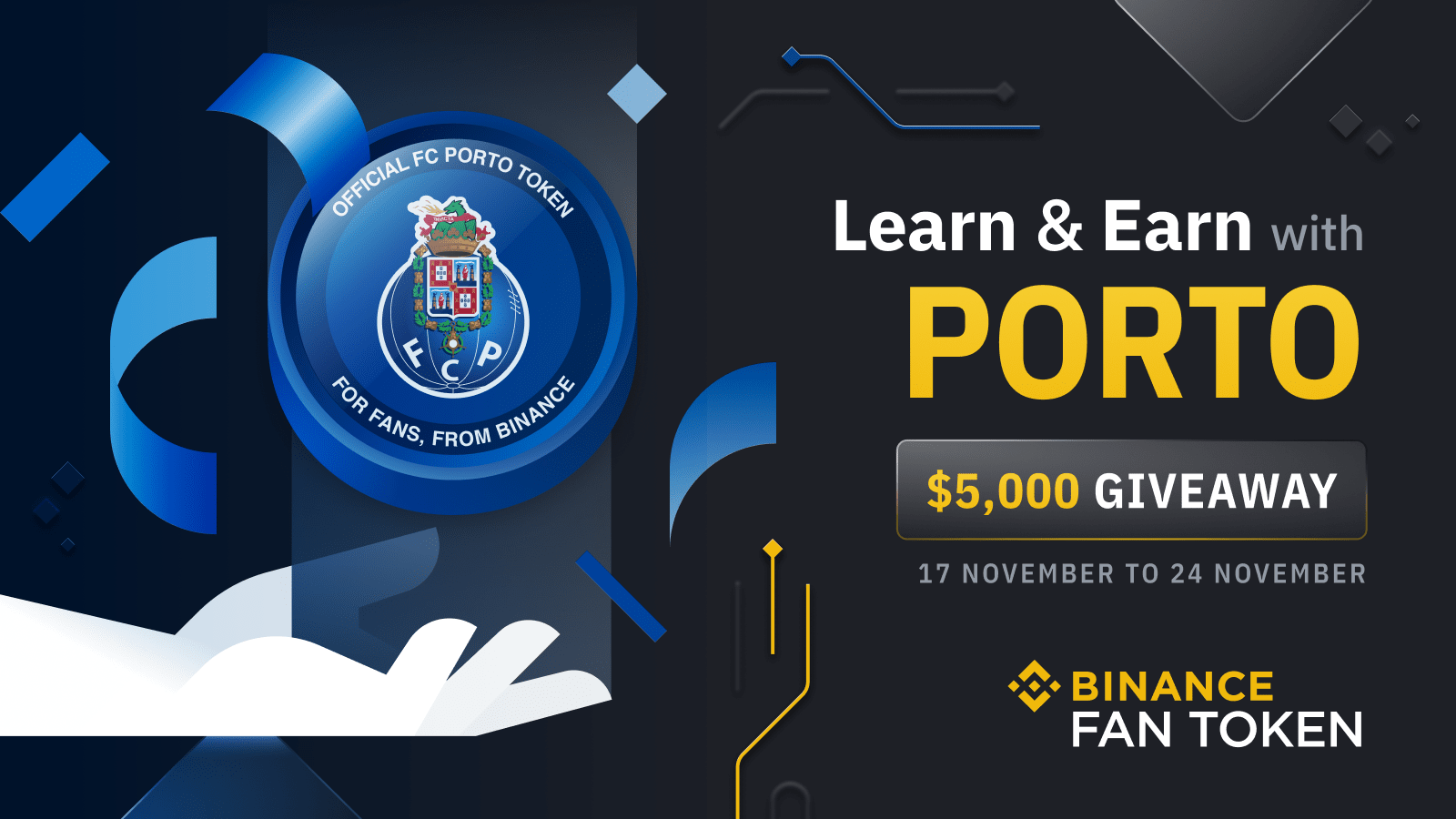 How to Enter:
How to Win:
The top 500 winners ranked by their scores in the quiz will each be rewarded with $10 worth of PORTO.
If multiple winners get the same score, participants who finish the quiz earlier are winning.

If multiple winners get the same score and finish the quiz at the same time, we will then further select winners based on their User IDs in ascending order (The earlier the registration time, the smaller the User ID.)
Terms & Conditions
Only users who complete KYC by the end of the promotion period will be eligible for any rewards.

For this promotion, the amount of PORTO depends on the real-time PORTO/USDT price on Binance at the time of distribution.

Reward Distribution: PORTO rewards will be allocated to winners' Binance Wallets within 14 business days after the activity period ends. Users can view their rewards by selecting Wallet >

Distribution

.

Binance reserves the right to disqualify any participants immediately for any improper behaviors.

Binance reserves the right to cancel or amend the Promotion or Promotion Rules at our sole discretion.

Where any discrepancy arises between the translated versions and the original English version, the English version shall prevail.
Risk Warning: Binance Fan Tokens may fluctuate in value and you should conduct your own due diligence of the suitability of tokens and the risks involved before you enter into any transaction. To access and use the Binance Fan Token Platform you must go through our mandatory KYC and Identity Verification process and agree to the Binance Fan Tokens Terms and Conditions and the general Binance Terms of Use. Binance has the right to modify and terminate tokens, utility features, and the entire Binance Fan Token Platform with all its related content without notice or liability to users. It is your responsibility to determine whether you are permitted to use the services of the Binance Fan Token Platform based on the legal requirements in your country of residence.
Binance reserves the right in its sole discretion to amend or change or cancel this announcement at any time and for any reasons without prior notice.