Binance is Now a Fully Regulated Digital Asset Service Provider in France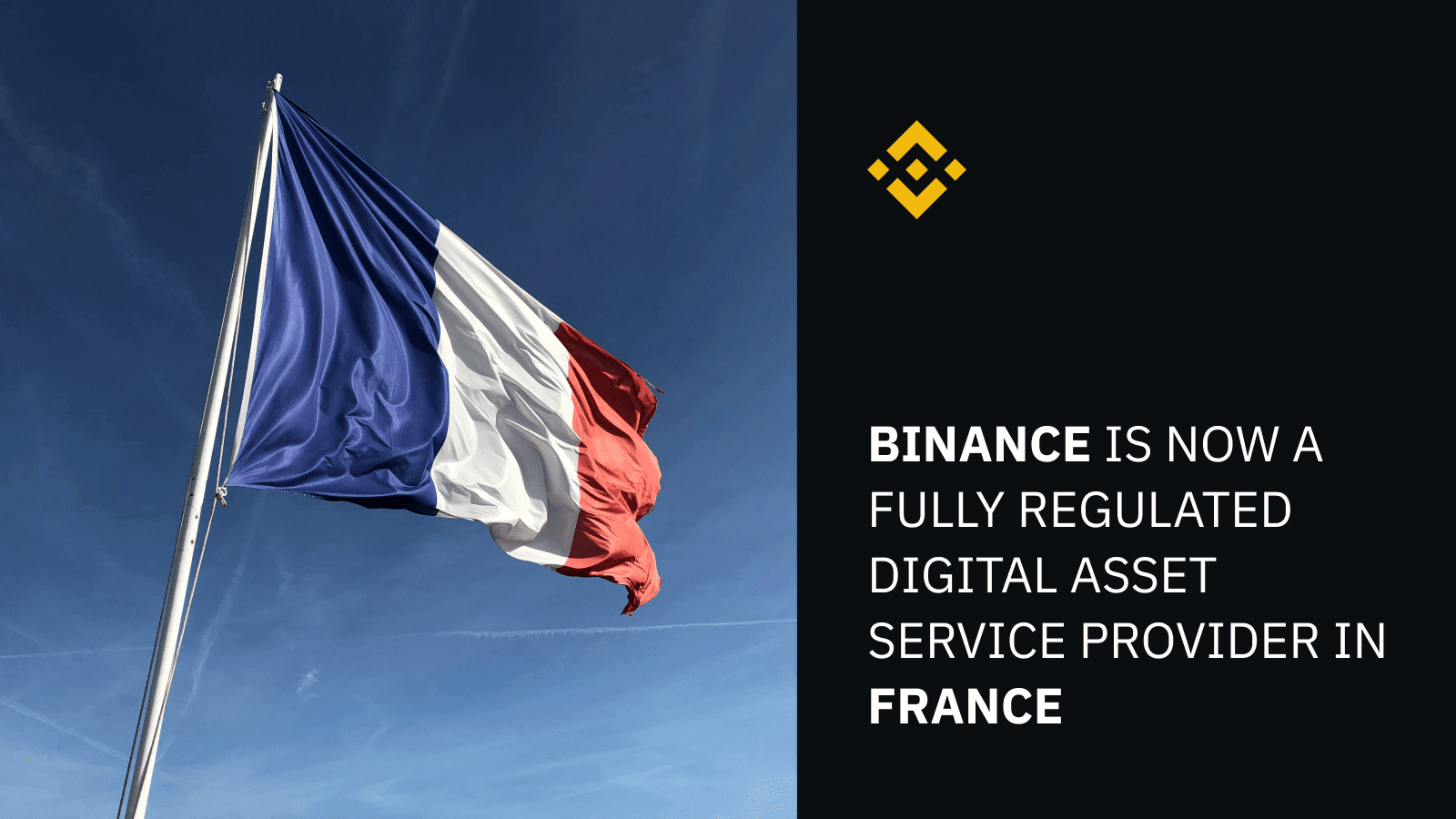 We are excited to announce that Binance France has been granted a Digital Asset Service Provider (DASP) registration by the Autorité des marchés financiers (AMF) with the approval of the Autorité de Contrôle Prudentiel et de Résolution (ACPR).
This milestone achievement represents Binance's first DASP in Europe and demonstrates our commitment to being a compliance-first exchange.
The AMF regulates and safeguards the French financial markets and ensures financial literacy among investors. The ACPR is an independent authority monitoring banks and insurance companies in France. With the approval and under the supervision of AMF and ACPR, this DASP registration will allow Binance France to operate in France.
Compliance and regulation are critical factors for the success of the crypto and blockchain industry. Over the years, Binance has taken measures to ensure compliance, including growing our international compliance team and advisory board, as well as actively helping to fight fraud and ransomware. We are pleased that our efforts have paid off, and meet stringent French compliance standards to successfully obtain the DASP registration.
Changpeng Zhao (CZ), founder and CEO of Binance, said: "Effective regulation is essential for the mainstream adoption of cryptocurrency. The French DASP and AML/CFT regulations put in place stringent anti-money laundering and fit and proper requirements to meet the high standards necessary to be regulated in France.
We are grateful to the AMF and ACPR, who demonstrated a commitment to innovation that made it possible for Binance to navigate the entire application process. Since day one, Binance has always put its users first, and now the crypto community can have even further confidence in Binance France as a trusted DASP registered in France."
As the first major global crypto exchange to register in France, we will be able to bring cryptocurrency services and education to millions.
David Princay, CEO of Binance France, commented: "The registration of Binance France as a DASP is a key milestone for crypto in Europe. In particular, the new levels of protection for AML will help grow crypto adoption in France and Europe. Greater adoption will help bring better liquidity to the market, which will be welcomed by users and the community in particular."
What's Next?
Binance will significantly scale our operations in France to make crypto and our services more accessible to all. In line with our mission to be the infrastructure services provider for the blockchain ecosystem, we have plans to expand our team to pursue further infrastructure development.
Binance is the new exclusive crypto sponsor of Brasileirão
Sao Paulo, May 9th, 2022 -Binance, the world's leading blockchain and cryptocurrency infrastructure provider, is the new exclusive crypto sponsor for the Brasileirão Assaí, Brasileirão Female Neoenergia, Brasileirão Female A-2 and Brasileirão Female A-3, four elite football tournaments organized by Confederação Brasileira de Futebol (CBF). The partnership of three years will target the association of Binance's brand to these tournaments, in addition to plans of developing Fan Tokens – digital assets that offer interactivity and benefits – and NFTs, among other projects.

"The industry has been changing constantly in the digital and tech ecosystem. The fans of the Country of Football are already participating in the fan tokens and NFTs world; and, in this scenario, it's a great and innovative step to have these competitions [Brasileirão Assaí, Women's Brasileirão Neoenergia, Women's Brasileirão A-2 and Women's Brasileirão A-3 associated with Binance, a global giant in this market. This is a strategic partnership for us, so that we can better understand the profile of Brazilian footballing fans, and help them fully connect with these competitions.", says CBF's Marketing and Commercial director, Lorenzo Perales.

"Sport is an important driver for inclusion in society. With football being strongly linked to Brazilian identity and culture, our partnership with CBF is important to help expand crypto adoption and generate positive impact for our users, the crypto and blockchain community, and society as a whole in Brazil." says Changpeng Zhao, Binance CEO and Founder.

Focusing on developing the Brazilian market, Binance announced in March having signed a Memorandum of Understading which manifested its interest in the acquisition of Simpaul Investimentos, a Brazilian exchange authorized by Brazil's Central Bank and Comissão de Valores Mobiliários (CVM). This being said, the successful conclusion of the transaction requires the approval of the regulatory authorities, including Brazil's Central Bank.

In Brazilian sports, the company already sponsored the Paulistão Sicredi and Santos Futebol Clube. Binance also supports the international sports scene, sponsoring the African Cup of Nations, the biggest football event of the African continent, and the European football teams Porto (Portugal) and Lazio (Italy), besides also partnering with Alpine, an F-1 team.

Targeted Competitions

The Brasileirão Assaí is composed of 20 clubs that represent the current elite of the country's men's football. As for the Brasileirão Female Neoenergia, it is the A series of the female Brazilian Championship, with 16 clubs – the same number of participants of the Brasileirão Female A-2, B Series. Whilst, in regards to the Brasileirão Female A-3, its first edition will take place this year, and will have the participation of 32 teams.

About Binance

Binance is the world's leading blockchain and cryptocurrency infrastructure provider with a financial product suite that includes the largest digital asset exchange by volume. Trusted by millions worldwide, the Binance platform is dedicated to increasing the freedom of money for users and features an unmatched portfolio of crypto products and offerings, including trading and finance, education, data and research, social good, investment and incubation, decentralization and infrastructure solutions, and more about Binance on Brasil, click here "O Que É A Binance?".