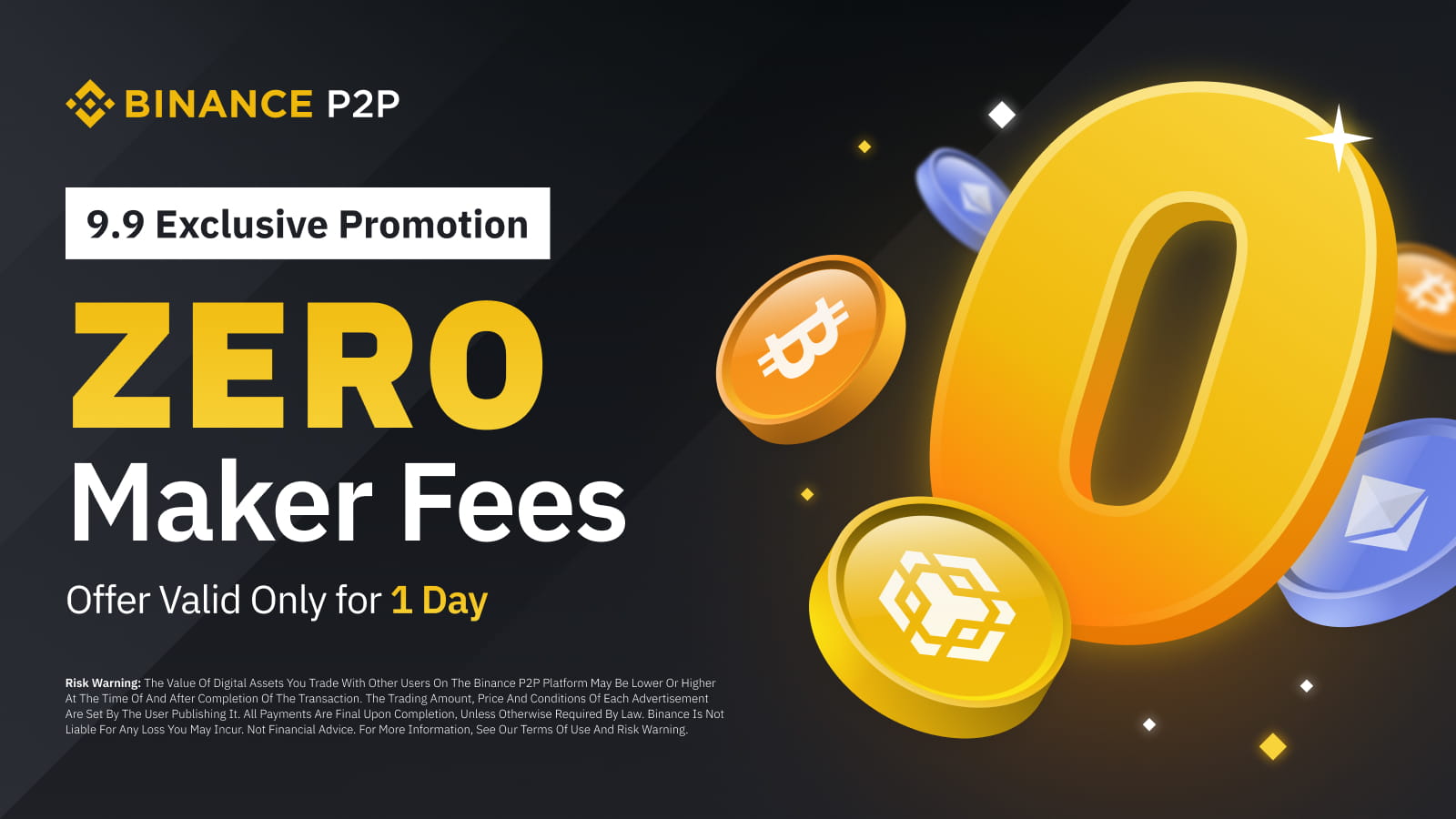 This is a general announcement. Products and services referred to here may not be available in your country.
Fellow Binancians,
Binance P2P
is excited to launch an exclusive 9.9 promotion for selected markets in Southeast Asia!
Activity Period: 2022-09-09 01:00 (UTC) to 2022-09-09 15.59 (UTC)
During the activity period, all eligible makers who
complete KYC
in selected Southeast Asian markets and post new advertisements in any pairs available in those markets, will enjoy zero maker fees for each successful trade.
Get Started Now:
Terms and conditions:
This promotion applies to makers in selected Southeast Asian markets only. Only makers who receive an email, inmail or app push notification for this promotion will be eligible to enjoy zero fees when creating new ads during the activity period.

Maker: When you place an ad that goes on the order book on p2p.binance.com, any subsequent trades coming from that order will be as a "maker." These ads add liquidity to the order book, helping to "make the market", and are therefore termed the "maker" for any subsequent trades.

The new fee rates are only applicable to the new ads posted during the activity period.

To enjoy the new fee rates on applicable ads during the activity period, participants should close all current ads and create new ones.

Binance reserves the right to disqualify trades that are deemed to be wash trades or illegally bulk registered accounts, as well as trades that display attributes of self-dealing or market manipulation.

Binance reserves the right to cancel or amend any Activity or Activity Rules at its sole discretion.
Binance reserves the right in its sole discretion to amend or change or cancel this announcement at any time and for any reasons without prior notice.
Risk Warning: Digital asset prices can be volatile. These fluctuations may affect the value of digital assets you buy or sell on the Binance P2P platform, which may be lower or higher at the time of and after completion of the transaction. You are solely responsible for your investment decisions and Binance is not liable for any losses you may incur. By using the Binance P2P platform you trade digital assets directly with other users. Binance facilitates transactions by releasing the digital assets once the offline fiat currency exchange is confirmed by both parties. The trading amount, price and conditions of each advertisement are set by the user publishing it. All payments are final upon completion, unless otherwise required by law. Binance has neither the right nor the obligation to resolve any disputes arising from a completed payment. Binance is not liable for any loss you incur in connection with a completed payment. Not financial advice. For more information, see our
Terms of Use
and
Risk Warning
.